I have worked on a little project for you guys. It took ten times longer than it should have because of time limitations, but it is super cute now that it's finished.
I had someone cut a letter for me, she makes these and paints them herself and they are super cute. I just wanted to do something of my own for Halloween but did not want to cut the letter. So…it started out like this.
Then I went to
Michaels
Craft Store and went crazy over
Martha Stewarts new craft paint
collection. I purchased the stencils and paint for the letter. The coolest thing I bought was the aerosol can that converts any of her paint colors to
spray paint
. This was super easy to use. I sprayed the whole letter black then added the orange stenciling.
Last, I brushed on the orange glitter the entire surface for a sparkly look.
Now, if I can just find a place to hang it! Right now it's hanging on my coat rack. I had planned to hang on my garage door by my wreath hanger is missing and I cannot remember to pick up a hook ! My Mom made this cute bow for it and I just love it! The stenciling is definitely my favorite part.
Now I just need to find something else to try out the Martha Stewart craft paint on :) Christmas is right around the corner!!
What Halloween crafts have you guys been up to? If you have any you'd like to share post them up on my Facebook page.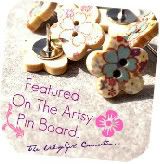 April